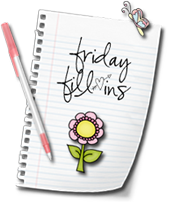 I just found this site and decided to mix it up with what I post from week to week. So that I will have something to post on weeks when I don't feel like putting sentences together. And this was kind of fun. I started with last weeks since I haven't done this before.
1.
Epilepsy
is not the end of the world.
2. Sitting here, listening to the sound of rain falling, I
could listen to it forever.
3.
Chocolate
tastes so good!
4. Sometimes, putting others first is
comforting
.
5.
My kids sleeping
is breathtaking, really.
6. Well, maybe there is
happily ever after
.
7. And as for the weekend, tonight I'm looking forward to spending
one on one
time with my 5 yr old who just started
kindergarten
, tomorrow my plans include a fundraising breakfast at hubby's work and Sunday, I want to got to
church
and take the kids to
IHOP
after!